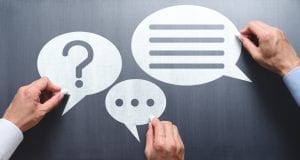 The key to a good working relationship with clients, coworkers, and employees is clear, consistent communication. Talking through ideas, plans, and questions gives everyone involved the best chance at fully understanding all situations at hand. Here are some of CDO Group's best practices for effective communication:
Set weekly meetings with owners and clients to give yourself a deadline
Sometimes, people procrastinate. We are only human! However, avoid giving yourself a reason to put off tasks even further by having an appointed meeting time with clients and owners. A weekly state of the union meeting will keep clients and owners feeling up to date and involved, and will keep you accountable as a construction team. Discuss progress, any problems or delays, and propose solutions to those problems. Also, having a deadline will (hopefully) motivate you to get your work done in an appropriate, efficient amount of time. Maybe you will even finish early!
Keep detailed field reports
Keeping detailed field reports requires a little bit of self-discipline, but will offer significant benefits to your construction management team. Reporting on incidents, progress, and all things project management will improve your day-to-day processes by offering an easy reflection tool. To maintain accuracy, you should be reporting daily on the status of all your construction projects. Check out CDO Groups Top 4 field reporting best practices here.
Be transparent about changes in the project status with owners
COVID-19 has changed many construction practices and rules over the past 3 months. Many products are back-ordered and supply chains are disrupted. Be open with your clients if you cannot obtain your previously agreed upon materials, and talk with them about alternative options. Additionally, many job sites and projects came to an abrupt halt at the beginning of March. New social distancing rules on work sites will affect the speed at which a project resumes and is completed, and it is your responsibility as a project manager to let your clients know of any delays to the projected completion date.
Click here to learn more about how COVID-19 has affected the construction industry.
Use document sharing or project tracking tools to keep everyone on the same page
Document sharing tools like Google Drive and Quip are all excellent resources to keep your team and clients on the same page. Avoid miscommunication by including pictures, descriptions, project plans, and a place for comments and questions. Most document sharing tools offer an option to place comments or questions directly next to a paragraph or document section you want to reference. This is excellent for avoiding confusion and misunderstandings and offering clarifying information. Document sharing tools also give your team the opportunity to brainstorm ideas and solutions, without needing to be physically together to do so.
Communicating effectively and efficiently will not only improve your relationships with your team and clients, but it will also improve your bottom line. Take simple steps to provide clear, concise information, avoid misunderstandings, and brainstorm to find solutions to potential problems. Everyone will thank you for it!